0 Flares
Made with Flare

More Info

'>
0 Flares
×
At a recent WWDC'13 company Apple, besides updating laptops and Mac Pro, has introduced a new mobile operating system iOS 7. The new OS developer was Jonathan Ive, who had designed the iPhone, iPad, MacBook, and other gadgets. IOS design has changed dramatically, and new opportunities, but not all users update took it positively.
Immediately warn that we consider only the beta version of iOS 7 for developers. The final version will likely be presented with the new iPhone, which is rumored to have to show in the fall. By the way, if you can not wait to try the new OSes, then we have a guide how to do it.
Recall that iOS (and before 2010 – iPhone OS) was released in 2007. Initially for the iPhone and iPod Touch, and later for the iPad and Apple TV. From the very first day to 2012 iOS has undergone many changes, and, both in design and functionality. But until iOS 7 has never been a fundamental change in the interface.

Comparing the very first iOS, iOS 6
Image source
Probably already it is no secret that the iOS interface 7 was "flat". No more icons with shadows, "bulk" of notifications and buttons. On this issue, opinions are divided. It seems that this is the same convenient and familiar operating system from Apple, but it looks completely different, and some things have to get used again. It is difficult to judge whether it is good or bad. On the one hand, the system has long been needed to inject fresh breath. It is impossible to over 8 years of living on the same ideas. On the other hand, Apple changed the design concept and now all applications developers have to alter their products to stay with iOS in the same style. Do I need this move? This question you have to decide yourself when you decide whether to update your gadget to the new operating system.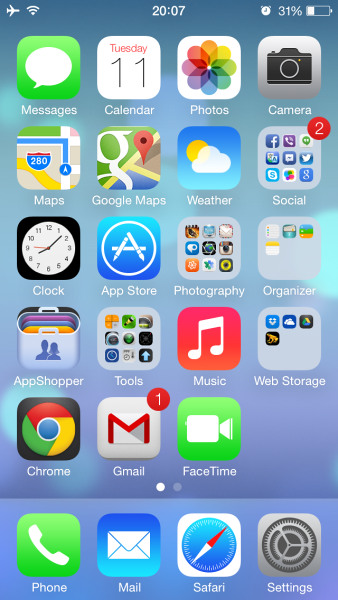 Desk 7 new iOS 4 on iPhone
Steve Jobs once said that the icons should be detailed and beautiful. Even with the presentation of retina-display of the iPhone 4 has been shown to improve logo Safari. Jonathan Ive, it seems, has decided to follow the precepts of Joe Maeda (author of the bestselling book "The Laws of Simplicity '), and make the interface more primitive. Look for example to compare the icons Safari and Game Center from iOS 6 and 7. But on the icon for hours now moving arrow.

Icons in iOS 6 and iOS 7
In addition to being changed icons appeared updates. First, the desktop background move when tilting the smartphone back and forth.This creates the impression of three-dimensionality. A trifle, of course, but visually looks nice. The same effect is found on the lock screen.The bottom row of fixed icons no longer reside in the background, as it were, on a separate panel, which is a bit like the concept of the first iOS. Secondly, the search for improved and moved the Spotlight. Whereas before, to get access to search, it was necessary to move the leftmost screen to the left, it is now fairly on any screen, hold your finger down from the middle of the screen. Output contacts I personally reminded Google+: the same circles.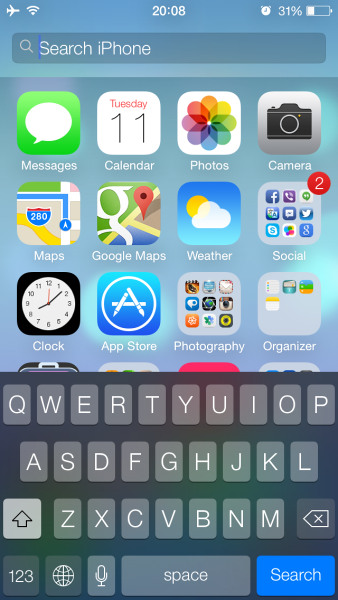 Spotlight search on iOS 7
He is looking for and in name, and content. In the notes, contacts, programs, events, e-mail – just about anywhere. While not working very fast, but it is rather due to the fact that the system under test is buggy. By the way, note: in iOS 7 different fonts. They are now more subtle mark. The Internet converged on the view that it is the font from the family Helvetica Neue Ultra.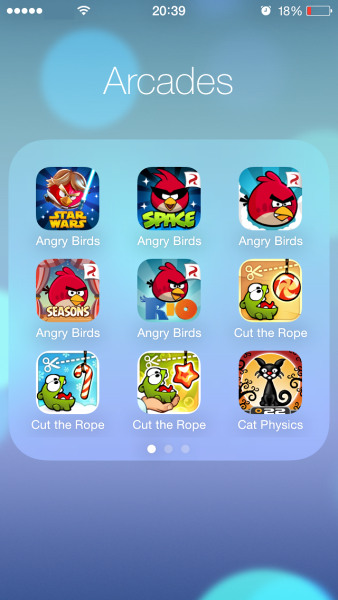 Folder with icons in iOS 7
Changed and folders in iOS 7. If before the desktop like "driving around" down to show the icons of folders, now opens a new window.To close it, you have to press your finger in the free area. In the new folder you can browse icons, so now their number could be more than 12 pieces.
And changed the lock screen. Gone was the famous slider. Now you just need to move the screen to the right to gain access to applications. Somehow it reminds me of Android, and Blackberry OS 10 . A shortcut to the camera is still available. Also, now with the locked screen, you can get access to the notification and control system, but they are a bit later. Off the Screen is now smoother, as if a smartphone is slowly "turning a blind eye."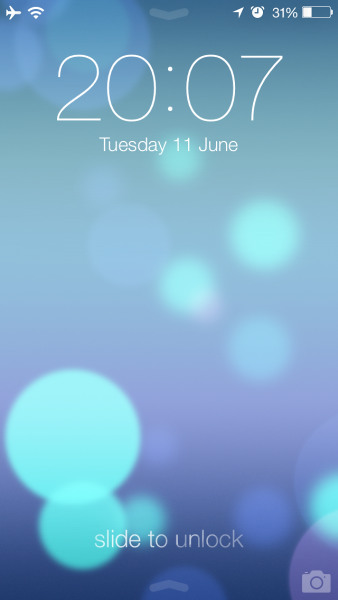 Lock screen in iOS 7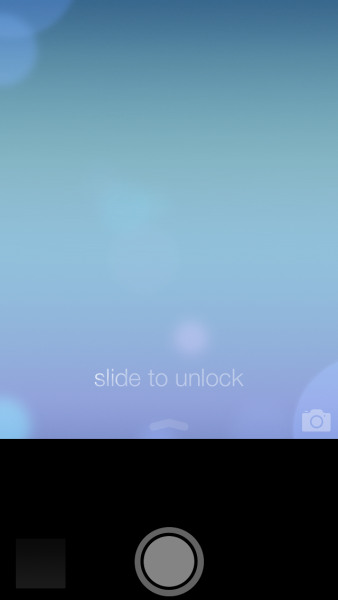 Lock screen in iOS 7
Appeared in the iOS and animated wallpaper. Sound familiar? That's right, they have a long time ago in Android. Moreover, even the kind of wallpaper is very similar to those used in the operating system Google. Strange, of course, is to observe, because before Apple complained that she borrows ideas, and now seems to be the opposite.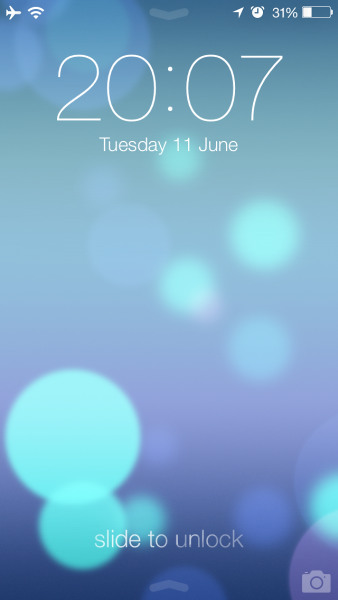 Animated wallpaper iOS7
Almost completely revamped the system and notification center. Now it has the tab "Today", "All" and "Missing", the appointment of which you can see from the title. Notifications of applications visible on the tab "All" is visible on the first page summary for today, but what a missed can see who is calling you. Was it more convenient to the existing system – is unclear, it is necessary to work with her a long time to understand. By the way, the buttons to send a tweet or status in Facebook, here we have found.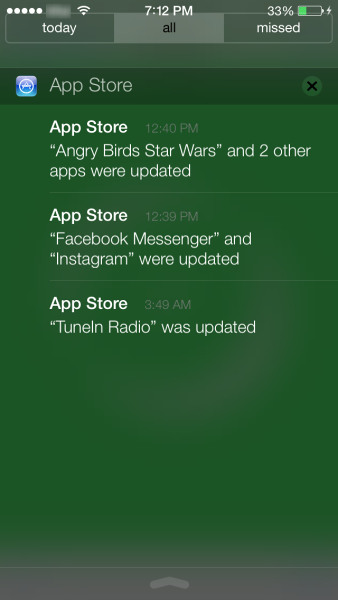 "Shutter" of notifications in iOS 7
Apple has finally listened to the pleas of people and made a control center. Of course, many expect to see state switches in the center of notifications, but so, too bad. The control panel can be opened, if you hold your finger up the screen below. There are 5 toggle switches on and off Wi-Fi, the regime "Flight», Bluetooth, night mode and screen rotation. It's a pity that there is no toggle switch to turn off the mobile network. But there is a slider to adjust the brightness. Here embedded player controls. There was also a new feature AirDrop to transfer data between devices on the Apple Wi-Fi, which is also accessible from the center of notifications. Also, here is a quick access to the four most desired applications: flashlight, alarm setting, calculator and camera. I especially liked that background control center – is very vague application icons on the desktop. So if you have a different color icons, the background is obtained from the CO is very rosy.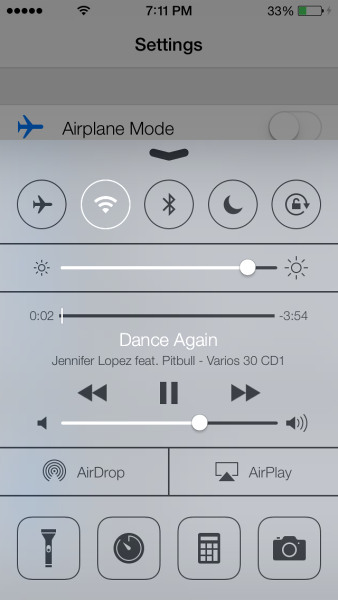 Control Center in iOS 7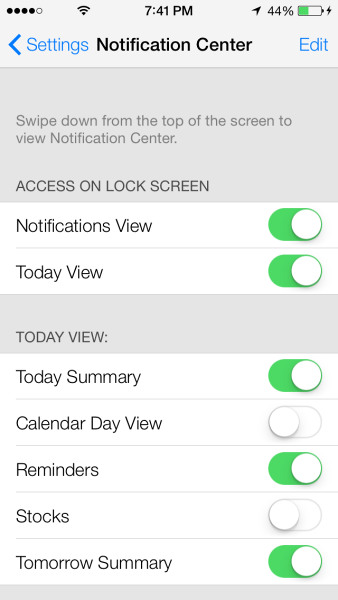 Settings control center in iOS
Changed and multitasking in the new iOS. Now when you double-click on the "Home" full screen window opens with all the open applications, and not a small bar with icons at the bottom. It is actually also very similar to the system in Android. In addition, the old panel to the left was available and audio, player and turn the screen, and now it's all there in the control center.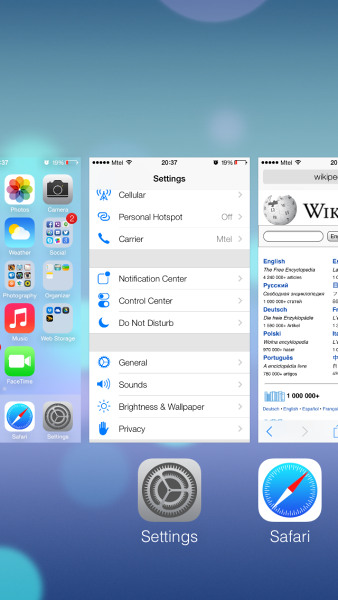 Multitasking in iOS 7
By the way, there are a couple of visual upgrades. Indication of the level of the network has changed, now it is in the form of points. The battery indicator is also slightly changed its icon. Perhaps it is all of the major and distinct change in the OS. We turn now to the specific applications in which too much has changed.
Want to start with Game Center, which has caused perhaps the greatest dissonance. Remember cozy play center with textures of green billiard table, a pleasant atmosphere and convenient navigation? Forget it, this is no more. The new Game Center soon for Google, with its circles on Google+ or for any PS Vita, but not for Apple: some balls, friends list, game … Functionally, nothing has changed, but the look is now just different.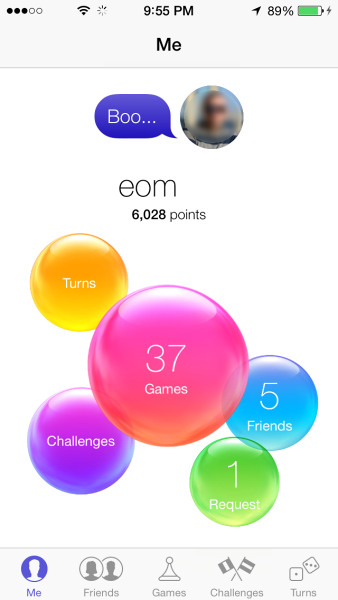 Game Center in iOS 7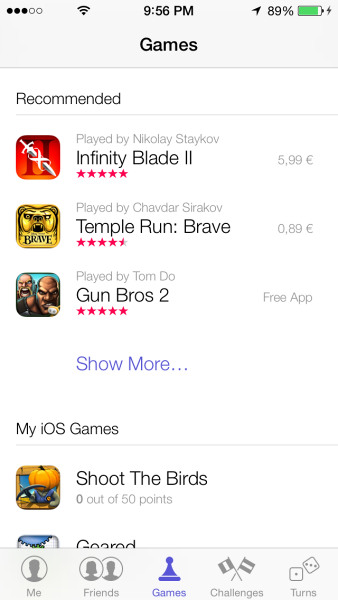 Game Center in iOS 7
Changed and Siri. She also lost all the usual texture, by the way, get ready, textures now nowhere, only gradients and blur. To say that Siri has to work better, I can not, because it is so often asked again and could not find basic things. But the release of information really changed. Where once strange and unusual questions Siri sent us on Google, but now she is looking for and already produces results. In general, working with Siri was pleasant, although Russian language is still there.

Siri in iOS 7

Siri in iOS 7

Siri in iOS 7

Siri in iOS 7

Siri in iOS 7

Siri in iOS 7
Pleasant received a renewal application "Weather". Now, in addition to information about weather conditions and temperature in the background is an animated image of the current situation on the street. It seems that something similar in the HTC Sense, though, there it was right on the desktop. Yes, it looks good even in comparison with previous versions, but there is not any novelty.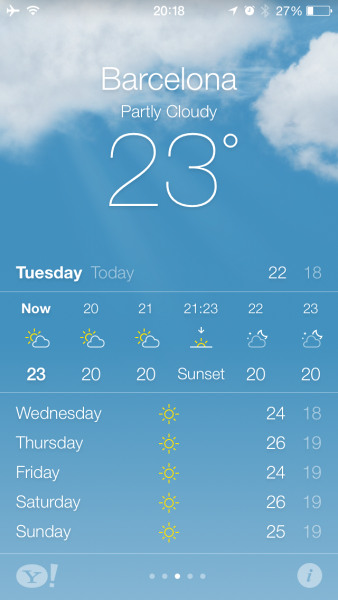 Weather in iOS 7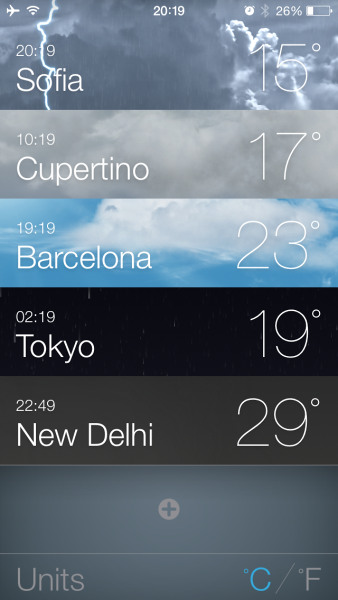 Weather in iOS 7
Much processed in the application "Music". Now it's white and black buttons. Everything was quite primitive and simple, and very convenient. No new features it does not, it's the old application with a new design.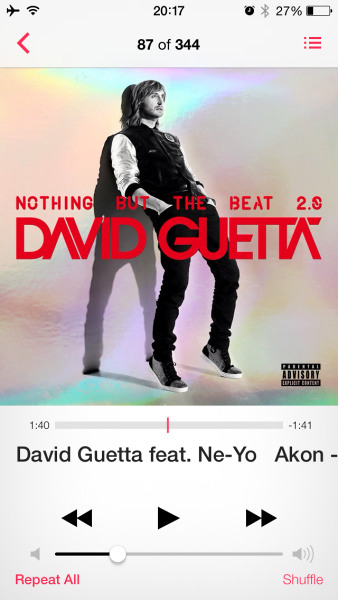 Music in iOS 7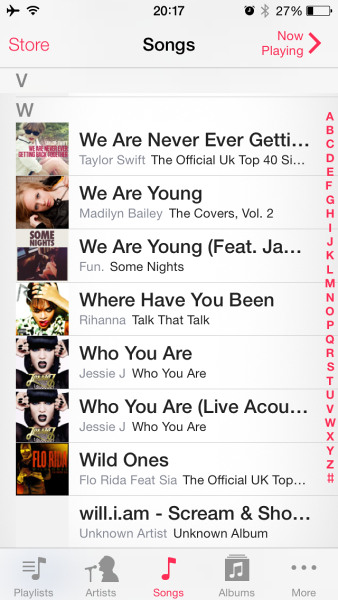 Music in iOS 7
But in the "Radio" for some reason remained a style that used to be in the "Music" – volume, the old, it's probably just a glitch in the final version will be here all too flat and modern. But iTunes Radio Got a new iOS7 Look.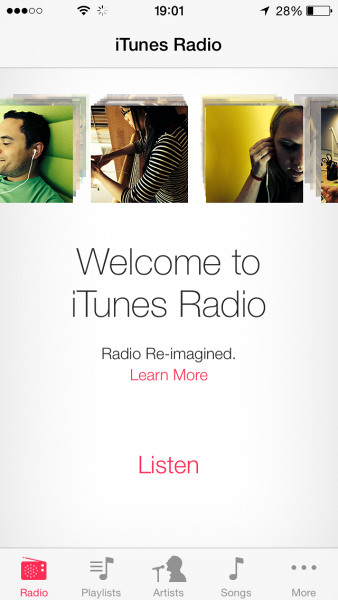 Radio in iOS 7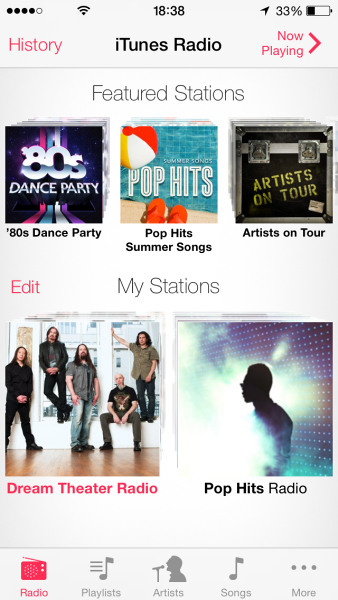 Radio in iOS 7
Application "Mail" is more concise. But this is one of the updated applications, which has become more convenient. Although the charm is still lost. If you move the letter to the left, you can see all the actions that are available with this letter before it was only possible to remove.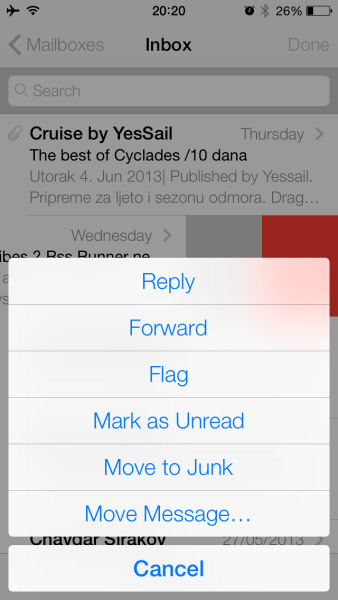 Application "Mail" in iOS 7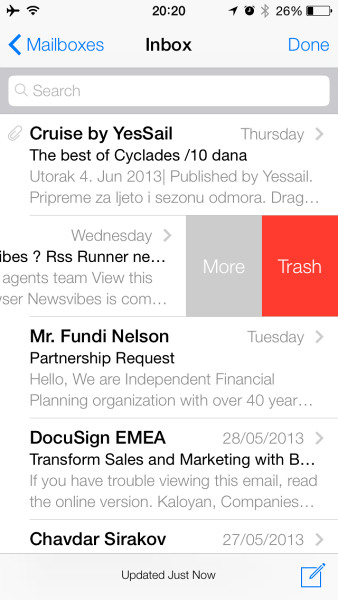 Application "Mail" in iOS 7

Application "Mail" in iOS 7
Pleasant update happened with built-in iOS browser Safari. Search and address line finally merged into one. Although some flaws here still is, for example, it is not obvious what happens when you press the "On Th …". Generally in iOS 7 are many places where the words do not fit in the marked area for them.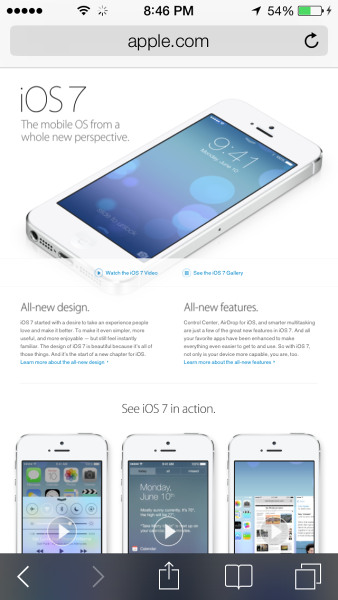 Safari in iOS 7
Page created, you can still share in social networks, save favorites, reading list, and the screen "Home". Each tab has changed its appearance, becoming the volume on every page. There was a regime "Private Browsing", at the entrance of which is proposed to close the previously opened page, and Safari interface becomes dark.
Safari in iOS 7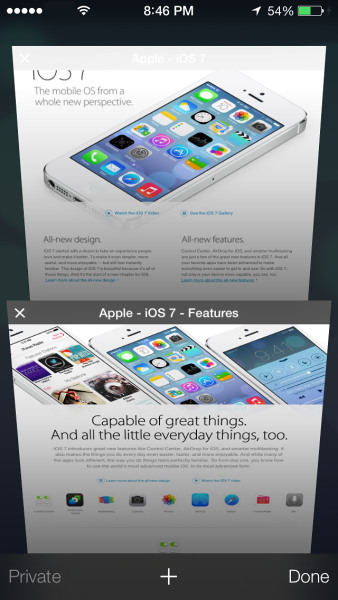 Safari in iOS 7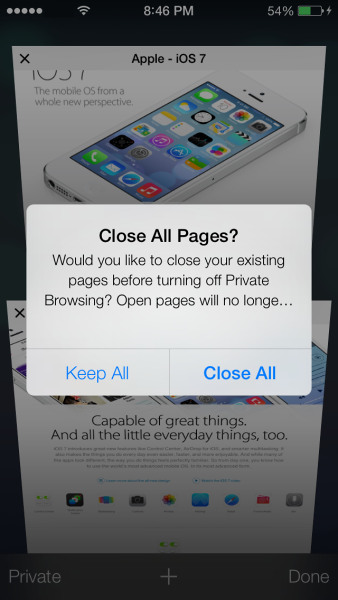 Safari in iOS 7
Not remain unchanged and the calendar. Now it is a white sheet with black and red dates, signatures on the menu. Looks simple and cute, enjoy still comfortable, so no complaints here.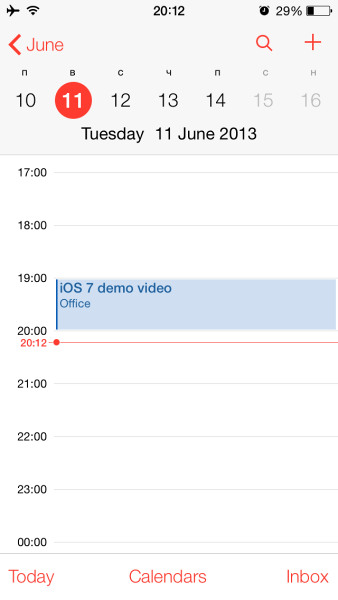 Calendar for iOS 7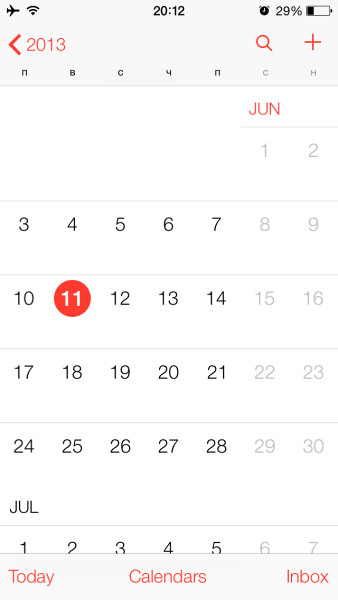 Calendar for iOS 7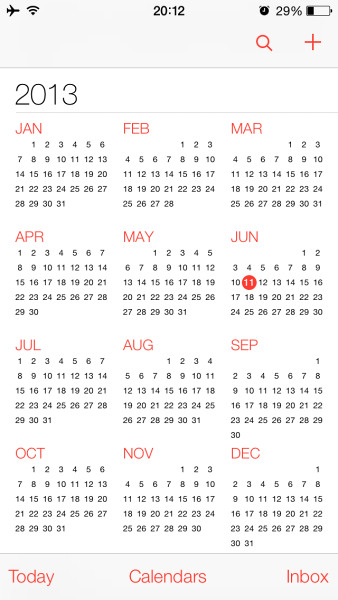 Calendar for iOS 7
Contacts and calls also changed their appearance. Here reign white, black, red, and blue. In principle, a good idea, but too simple and reminiscent of the same menu for other operating systems. Calling a person in general lost all its beautiful design and turned into a cross between a call on Android and Blackberry.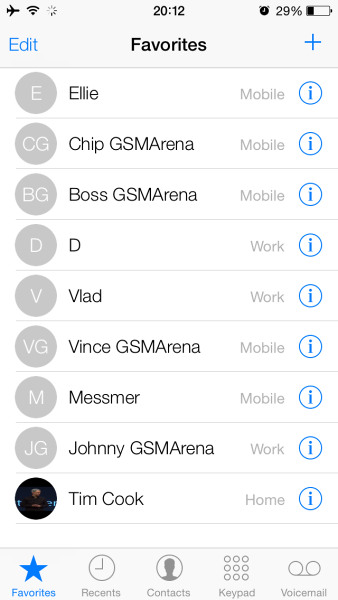 Contacts in iOS 7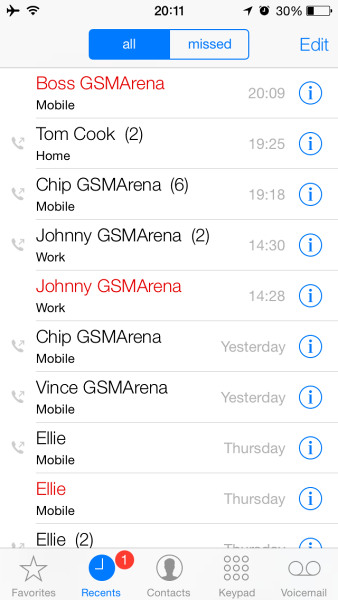 Contacts in iOS 7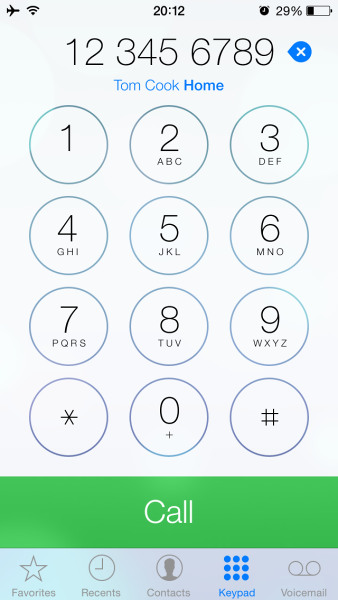 Make calls in iOS 7
Transformed and maps, although they are not particularly better than steel. Now there is curled corner, there is only a button. But the cards themselves trimmed, the streets are named correctly – at least it pleases.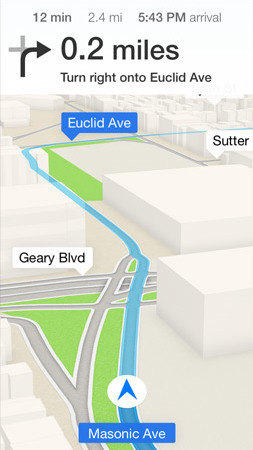 Maps in iOS 7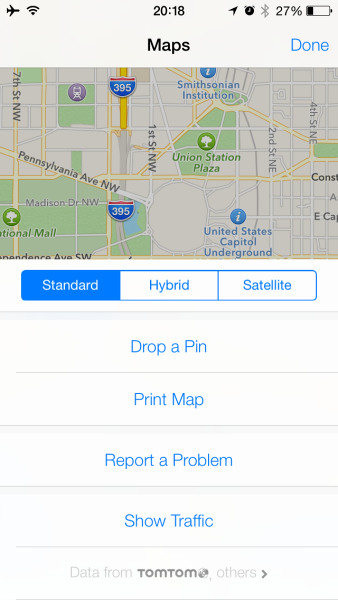 Maps in iOS 7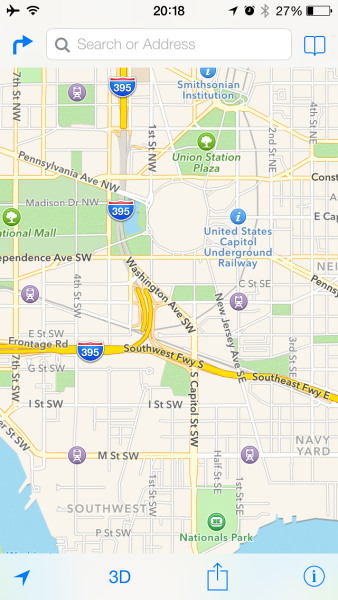 Maps in iOS 7

Maps in iOS 7

Maps in iOS 7
AppStore, and iTunes have not changed dramatically, yet their overall style still has not passed. It is not clear why the "Music" and "The Sound" is one and the same icon and color design in "Movies" black, although all the others – white. In general, the unfinished places are still very, very much.

iTunes in iOS 7

iTunes in iOS 7

iTunes in iOS 7
Appeared in the AppStore search applications for geolocation. A "Top Charts" were vertical instead of horizontal. Incidentally, the application updates can now be placed automatically, that is, will not have to climb every day in the app and update it.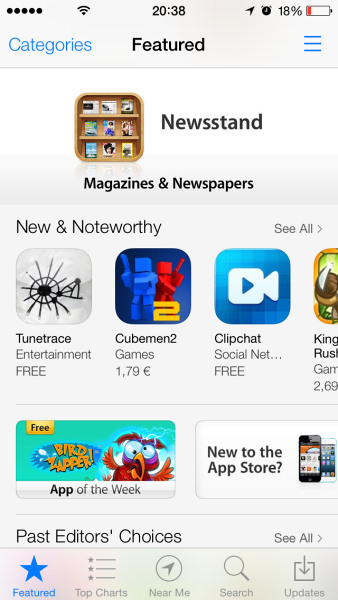 AppStore in iOS 7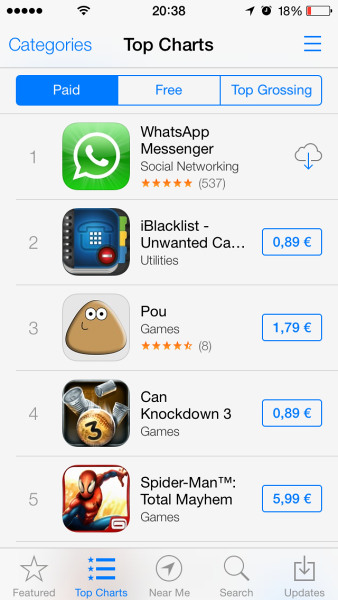 AppStore in iOS 7
For me, the biggest loss – it notes. No, they stayed in the new iOS, but their appearance – it's something strange: a white and gray letters on it. There are no pages of lined, leather binding, as it was in earlier iOS. But the application "Reminders" it makes it easier, now all the cases seen on the same page, do not have anywhere to switch.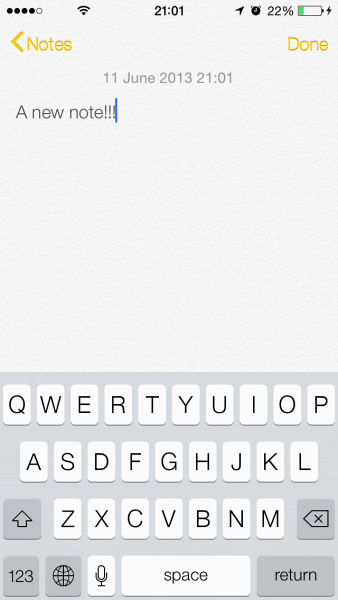 Notes in iOS 7
Let's take a look at the new app "Camera". First, the button has changed, now it is just a round. The entire interface is transparent.Between shooting modes can be switched by turning. There is a photo mode, video, shot in a square frame (for instagram), as well as panoramic photography. The iPhone 5 is also available on the effects of the imposition of photos, iPhone 4s deprived of this opportunity.All camera functions have remained in place, and management has become more convenient, that is good news.

The camera in iOS 7

The camera in iOS 7

The camera in iOS 7

The camera in iOS 7
View photos also changed. You can view the collection moments, your photostream, now has a separate pan. I really liked the view of photos by months and even years.

View photos in iOS 7

View photos in iOS 7

View photos in iOS 7
Also changed the application "calculator", "stock", "Compass". Calculator has a flat and very similar to the Windows 8 tiles. The Shares have not lost their charm, but I'm personally not very often they use it. But in the compass appeared inclinometer. Now you can use your iPhone during construction, to learn how tilted or that element.

The calculator in iOS 7

The calculator in iOS 7

Shares in iOS 7

Shares in iOS 7

Inclinometer in iOS 7

Inclinometer in iOS 7
I still difficult to determine, it is better to become iOS 7 compared to previous versions. Yes, there are new features that are so lacking in older operating systems – sometimes so much so that we had to put the jailbreak. But, in my opinion, iOS lost its charm that distinguishes it from other products on the market. Apple Inc. has always made products ahead of time, telling users what they need. Now the company is in some ways has gone towards customers, but whether they will accept all the innovations – this is the big question. In any case, it is necessary to wait for the official update iOS7, which will be corrected errors and omissions. By the way, the new iOS will be available for iPhone 4, 4s, 5, iPod Touch 5g, iPad 2 and above.